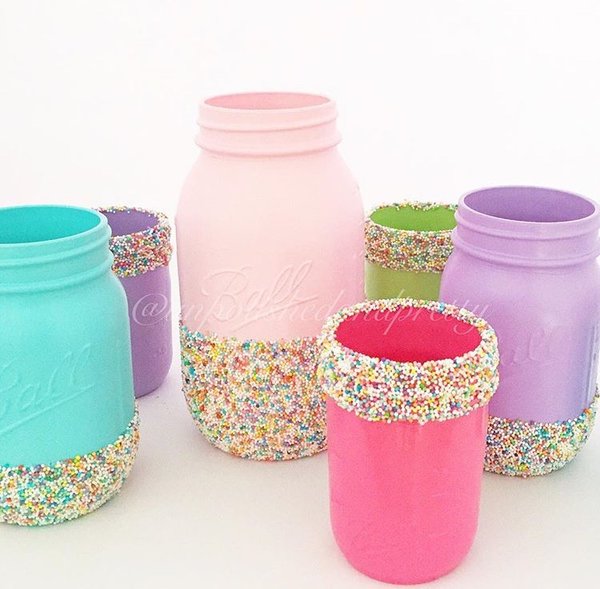 Sprinkle Mason Jars©
Create Your Custom painted sprinkle mason jar
These mason jars are perfect by themselves or with flowers as center pieces for parties. They are also great for party tables to hold silverware and straws or give filled with goodies for party favors.
Over 60 colors and over 3 sprinkle options with new ones being added for each season/holiday. Mix and match colors and sizes to create your custom sprinkle mason jar! Please see the "color charts" section on the home page for all larger swatches. Swatches shown in the listing photos are great for quick reference while placing your order.
Jar Sizes
Mini jars are 8oz and measure 4" tall with a 2 1/2" opening. Mini jars are great for holding treats for party favors or votive candles.
Pint jars are 16 oz and measure 5" tall with a 2 1/2" opening. The pint jars are great for holding silverware, straws, pencils, pens, makeup brushes, toothbrushes or small flower bouquets.

Quart jars are 32 oz and measure 7" tall with a 2 1/2" opening. The quart jars hold larger bouquets as well as desk supplies such as scissors and rulers.

Jar Care

Jars can hold water for flowers but are not for drinking purposes and not safe to wash. Sprinkles are sealed on to prevent insect attraction, maintain color and prevent shedding. Some shedding may still occur and sprinkles can fall off if jar is rubbed or hit against something. Jars can be dusted with a dry cloth.
Listing Info
This listing is for one painted sprinkle mason jar in your choice of size, color and finish. Sprinkles can be placed on the bottom portion of the jar or around the rim. If you would like to purchase multiple jars in different colors or sizes, add this listing to your cart for each jar.
These sprinkle jars are handmade items, therefore, no two will be the same.

Please read all policies before purchasing.

Only ships within the US
Photo Props and Credit
Stylized photo taken and decorated by Kim of Pom Poms and Pin Wheels
The adorable Marshfellow Kawaii collectable pictured is from Autumn of Marshfellows
All other photos, content, and designs are copyrighted by Unpolished & Pretty LLC
Reviews
Featured Products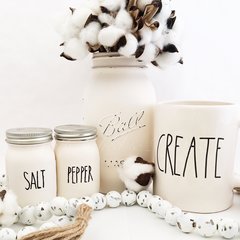 Salt and pepper shaker set
$12.00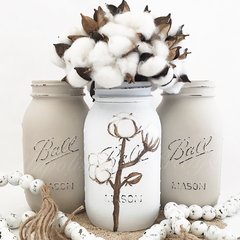 Watercolor Cotton Mason Jar©
$16.00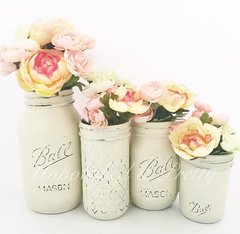 Painted Mason Jars
$5.50