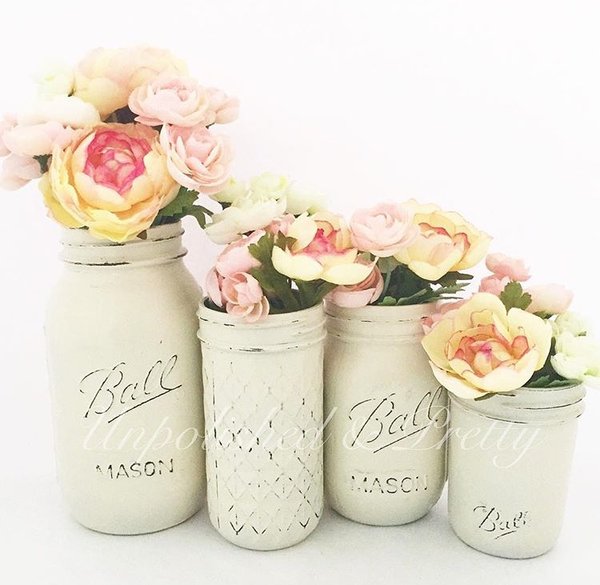 Painted Mason Jars
Create Your Custom Mason Jar Set
Over 60 colors to choose from! Mix and match colors and sizes to create your custom mason jar set! Please see the "color charts" section on the home page for all larger swatches. Swatches shown in the listing photos are great for quick reference while placing your order.
Jar Sizes
Mini jars are 8oz and measure 4" tall with a 2 1/2" opening. The mini jars are great for holding treats for party favors or votive candles.

Quilted jars are 12 oz and measure 5.5" tall with a 2 1/2" opening. The quilted jars are great for small flower bouquets, pencils, pens, silverware, straws, makeup brushes or toothbrushes.
Pint jars are 16 oz and measure 5" tall with a 2 1/2" opening. The pint jars are great for holding silverware, straws, pencils, pens, makeup brushes, toothbrushes or small flower bouquets.

Quart jars are 32 oz and measure 7" tall with a 2 1/2" opening. The quart size jars hold larger bouquets as well as desk supplies such as scissors and rulers.

Jar Care

Jars can hold water for flowers but are not for drinking purposes and not safe to wash. Jars can be dusted with a dry cloth.
Listing Info
This listing is for one mason jar in your choice of size, color and finish. If you would like to purchase multiple jars in different colors or sizes, add this listing to your cart for each jar.
These painted jars are handmade items, therefore, no two will be the same.

Please read all policies before purchasing.

Only ships within the US
Photo Props
For the rustic wooden arrow, please visit The Rustic 4
http://www.etsy.com/shop/TheRustic4
For "Be filled with joy" wooden sign, please visit Laney Bell Designs
http://www.laneybelldesigns.etsy.com
For felt flowers pictured, please visit Ell and Lu
http://www.etsy.com/shop/ellandlu
All photos, content, and designs are copyrighted by Unpolished & Pretty LLC.
Reviews
Featured Products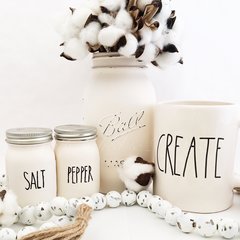 Salt and pepper shaker set
$12.00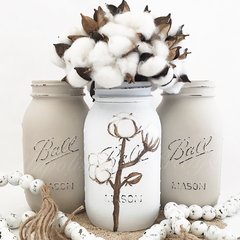 Watercolor Cotton Mason Jar©
$16.00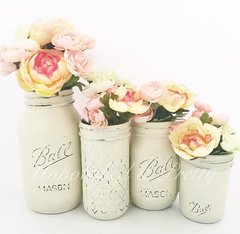 Painted Mason Jars
$5.50