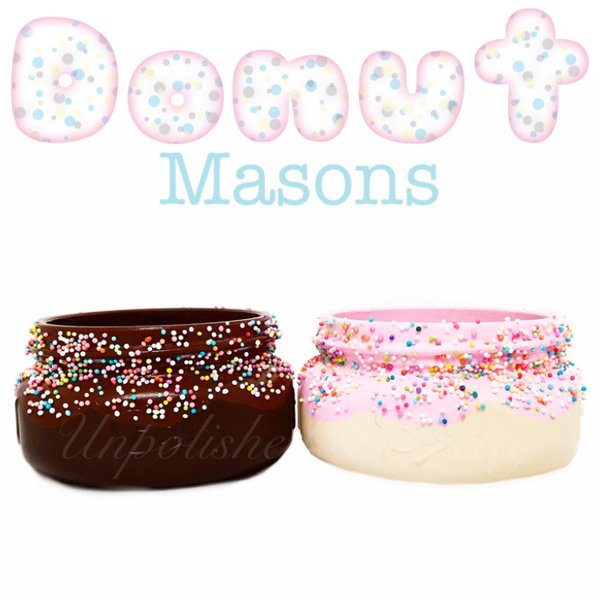 Donut Masons©
Donut Masons
These donut mason jars are a great way to add some fun to your desk! They are also perfect filled with goodies for party favors. Choose between Chocolate with chocolate frosting and sprinkles or classic with a classic donut colored body (ivory), light pink frosting and sprinkles.
Jar Size
Shorty jars are 8 oz and measure 2'" tall with a 3" opening. Perfect for business cards or desk supplies such as washi tape, paperclips, tacks etc. These are also great to fill with a goodie bag and give as party favors.
Pint jars are 16 oz and measure 5" tall with a 2 1/2" opening. The pint size holds pencils, pens, small scissors, makeup brushes, toothbrushes or small flower bouquets.

Jar Care

Jars are not safe to wash. Sprinkles are sealed on to prevent insect attraction, maintain color and prevent shedding. Some shedding may still occur and sprinkles can fall off if jar is rubbed or hit against something. Jars can be dusted with a dry cloth.
Listing Info
This listing is for one Donut Mason in our choice of chocolate or classic. These donut masons are handmade items, therefore, no two will be the same.

Please read all policies before purchasing.



All other photos, content, and designs are copyrighted by Unpolished & Pretty LLC
Reviews